A Guide to Precious Metals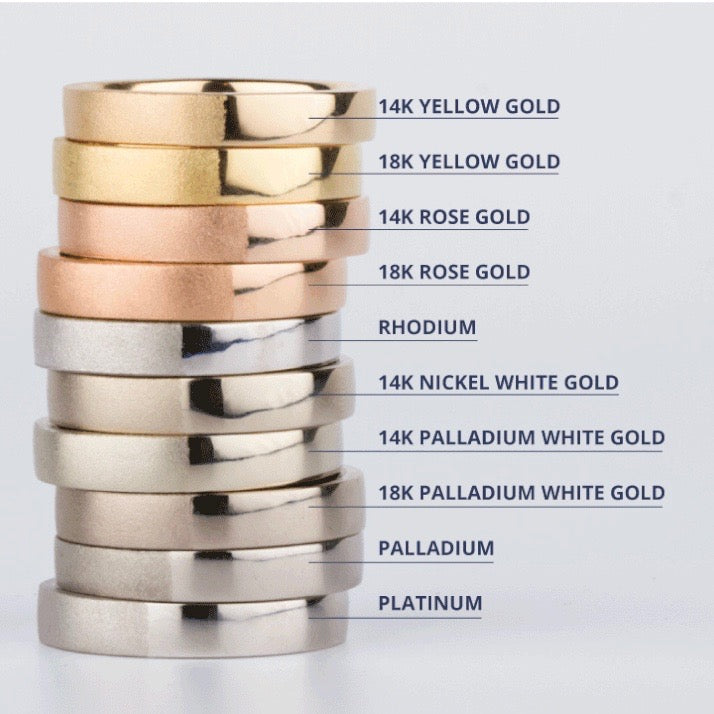 Traditional metals used in jewelry are the "noble metals": silver, gold and the platinum metal group (including platinum and palladium). Noble metals are so called because of their ability to withstand corrosion and oxidation and their chemical stability. Today's jewelry is more varied and versatile than ever. This is partly due to the use of new types of metals and alloys used to make jewelry.
Through the use of alloys, two or more metals or elements can be combined to give the resulting metallic substance certain properties that are different from its component metals. The primary purpose of alloys in jewelry is to give metals more desirable characteristics. For example, pure gold (24 karat gold) is too soft for prolonged wearing and would scratch easily. Most gold jewelry is either 14 karat gold or 18 karat gold which consists of gold mixed with other alloys, usually silver, nickel, copper or zinc. Sterling silver is silver mixed with alloys to make it stronger. Sterling silver is 92.5% pure silver usually mixed with 7.5% copper.
 Metal Purities

 Metal Characteristics

 Sterling silver is the whitest and brightest of the white precious metals. Though sterling is a bit softer than white gold it's a cost effective alternative and pairs very nicely with rhodium plated white gold and platinum. White gold tends to be a bit more on the yellow side, as you can see in the photo, due to its roots and standard practice is to plate it with rhodium to brighten its appearance. Plating is not an option in my playbook, as plating wears off over time, leaving a mottled and unattractive appearance, and must be re-applied. A newer option, and favorite of mine, is palladium white gold. Palladium replaces the nickel alloy (many are allergic to) used to make white gold white. Palladium white gold makes my life at the bench much easier! It's less brittle and much less temperamental than standard white gold with nickel. The higher the gold content the more saturated the color, yet softer the metal, and higher the price.
1 Response
Leave a comment
Comments will be approved before showing up.